The icon of DAEMON Tools situated in the upper right corner of the menu bar allows you to mount images, set the options of the program and ask for help.
To enable it, go to the Preferences, open View tab and check Show icon in Menu bar or Show icon in Dock and Meny bar option there: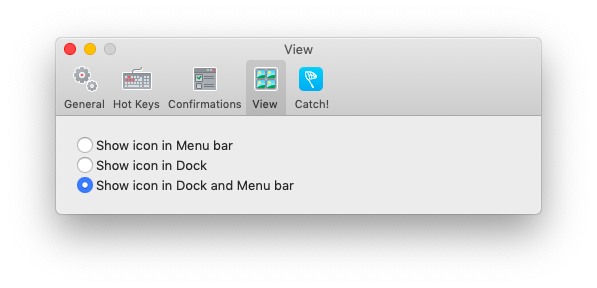 The following items are available from the menu bar: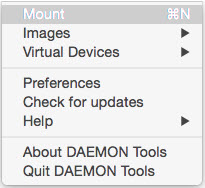 Open DAEMON Tools
Mount option opens Finder and allows you to choose the file of the disc image and mount it via DAEMON Tools.
Images option provides the easiest access to the images added to your DAEMON Tools collection.
Virtual Devices option allows you to eject a certain one or all devices mounted now.
Preferences option lets you adjust the main settings of the program.
Check for updates option goes to the server and verifies, whether the newer versions of DAEMON Tools are available.
Help submenu includes the links to the main DAEMON Tools resources:

Manual option leads to the DAEMON Tools Help. You are already here.
License option allows you to check the information about your license and to activate the program.
Forum option refers you to the DAEMON Tools Forum, where you can ask questions, leave your feedback about the program or talk to the developers and other DAEMON Tools users.
Support Request leads you to the online form, where you can create a message to the DAEMON Tools Support Team.

About DAEMON Tools option opens the small window with the short information about the program.
Quit DAEMON Tools option closes the program.