The DAEMON Tools menu consists of two tabs and allows you to set the options of the program, activate it and get information or help.
DAEMON Tools menu
DAEMON Tools menu consists of the following options: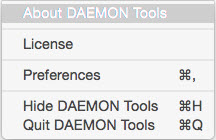 About DAEMON Tools option opens the small window with the information about the program.
License option shows the current information about your license — Paid or Trial — and allows activating the program.
Preferences option is used to adjust the settings of DAEMON Tools.
Check for updates option verifies whether your DAEMON Tools version is up to date
Hide DAEMON Tools option conceals all windows of the program opened now.
Quit DAEMON Tools option closes the program.
File menu
File menu allows using the most important features of DAEMON Tools for Mac.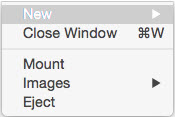 New submenu includes Grab a Disc, Disc Image from Folder... and Audio CD Image from Folder... options that let you save an image file from the physical disc, create new data or Audio images.
Close Window option hides the main window of the program.
Mount option opens Finder where you can select an image to mount.
Images submenu allows you to mount virtual discs added to Images tab.
Eject option unmounts the selected virtual disc.
Help menu
Help menu consists of the following options:

Search entry field allows you to find the quick answer on your question about the program by typing the keywords.
Send DAEMON Tools Feedback to Apple option opens the Feedback Assistant and permits to send feedback.
Manual option opens the DAEMON Tools Help. You are already here.
Forum option refers you to the DAEMON Tools Forum, on which you can ask questions, leave your feedback about the program or talk to the developers and other DAEMON Tools users.
Support Request leads you to the online form, where you can create a message to the DAEMON Tools Support Team.