You can try the full functionality of DAEMON Tools for free but only during the first 20 days. On the first start-up of the application, you will get an information window that describes the type of license activated now. Later you will be able to change it.
To activate the Paid License of DAEMON Tools, follow these steps:
Go to DAEMON Tools menu and choose License option.

In the window that will open, click Change button.

Three options are available for the next step. Click Try button to continue using the trial version of the program; click Activate button if you have a serial key; and finally click Buy button to go to DAEMON Tools online shop and purchase a license.

Enter your Serial number and click Activate button.

If everything is correct, you will get the information window. Otherwise, feel free to contact our Support Team. Note that there are two types of licenses. The first one activates only DAEMON Tools for Mac, and the second allows you to use iSCSI Initiator too. You may check iSCSI Initiator feature in the cart while purchasing a license or buy it later from you personal account on daemon-tools.cc. To learn about the advantages of iSCSI functionality, visit the relevant article.
The license is already in use
Your license is linked to the System ID of the computer, on which DAEMON Tools for Mac is installed, for security reasons. However, System ID may be changed after an operating system reinstall or update. In this case, you will get the following message: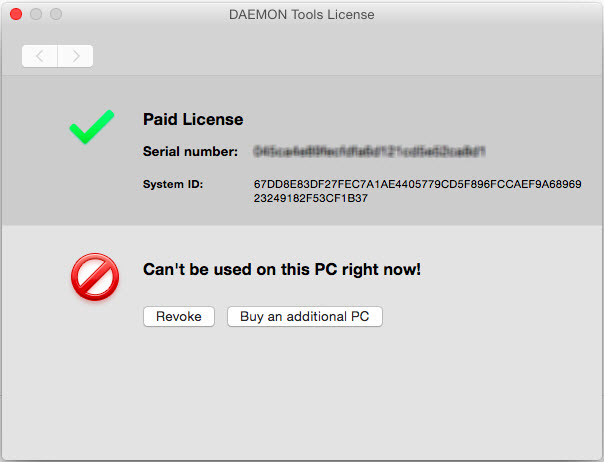 There are two options available here:
Revoke button redirects you to your account, where you can cancel the previous license to make it available for the new system.
Buy an additional PC button redirects you to the cart and allows purchasing license for one or several additional computers. This option is highly recommended when you want to install DAEMON Tools for Mac on more than one Mac.
Note that additional license is much cheaper than the new full license, so if you are going to use DAEMON Tools for Mac on several computers, you can save buying additional licenses instead of the ew ones. However, if you need to install the program on the one computer only, it is better to choose Revoke option that is free of charge. If you have any additional questions about DAEMON Tools licensing, feel free to contact our Support Team.