Since DAEMON Tools for Mac 3, you can not only mount but also create ISO, MDX and MDS/MDF images from files. Data Image wizard is a part of New Image paid group.
Starting with DAEMON Tools for Mac 8, you can create images of a custom size. To do that, open the Size drop-down list, and pick Custom. The size of an image file will correspond the size of chosen files.
To start making a virtual disc, click

icon on the toolbar.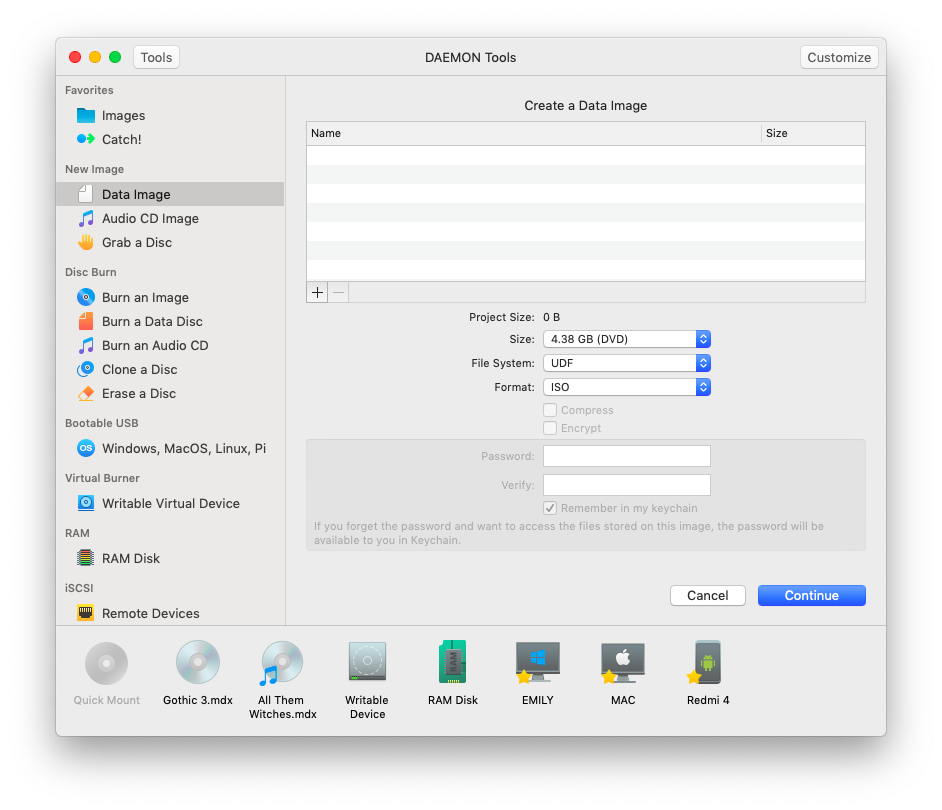 Click the Add button in the lower left corner to add files you want to include to Data Image.

Check the total size of selected files and choose the correct type of the virtual disc.

Specify the file system — UDF or ISO9660 with Joilet.

Choose the image format — MDS, MDX or ISO.

MDS or MDX images can be compressed and encrypted. Compression allows reducing the size of the image while encryption protects the virtual disc with a password. Check the relevant options if needed.

If you have checked Encrypt option on the previous step, then you need to enter your password two times. Also, you can check Remember in my keychain option to store the password in Apple's password management system.

Press Continue to proceed to the next step.

Enter the name of an image.

Select one or several tags to mark an image.

If you didn't specify the path to the output image before, you can choose it from Where drop-down list. Here you will see the parent folder for the one which is selected as a source, favorite and recent folders.

Wait a few seconds while the image is being created. You can follow the progress in the main window or from the icon in Dock menu. Once the task is finished, you will get a message in Notification Center.
The image is ready. You can see it on Images tab.