Preferences window allows you to adjust the settings of DAEMON Tools. To open it, choose Preferences option from DAEMON Tools menu or menu bar, or simply press command key and comma (⌘ ,). Preferences window consists of three tabs.
General tab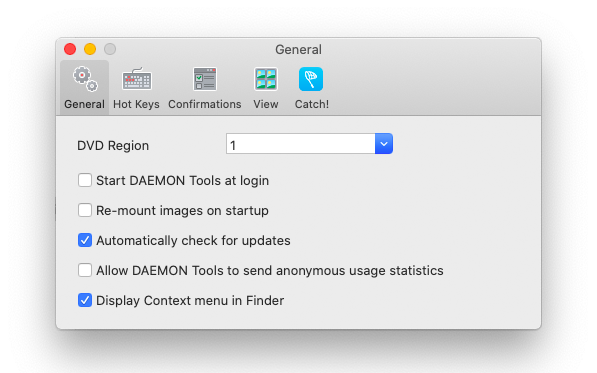 On the General tab, you can adjust the most common settings:
DVD Region option allows you to change the DVD region code of a country, if the discs from which you have made images have a regional protection.
If Start DAEMON Tools at login option is checked, the program will launch when you switch the computer on.
If Re-mount images on startup option is checked, all images that were mounted before you closed the program will be mounted again, when the program is running. Otherwise, you will need to mount them manually after the next restart.
If Automatically check for updates option is switched on, the program will be visiting the server from time to time to verify, whether the newer versions of DAEMON Tools are available.
Allow DAEMON Tools to send anonymous usage statistics option helps the developers learn how you use the program in order to improve it in the next versions.
Show icon in Menu bar option adds DAEMON Tools icon to the panel in the upper-right corner of the desktop.
Hotkeys tab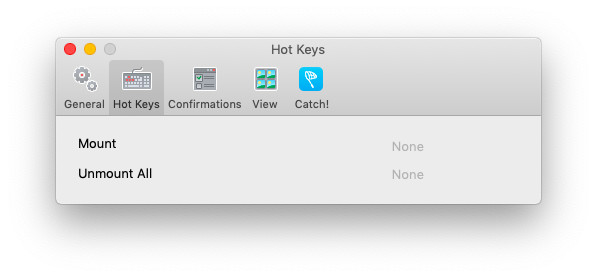 On the Hotkeys tab, you can choose the keys for the most important functions of DAEMON Tools — mounting and unmounting. To select the new hot key, click on the field to the right of the function name and press the keys you want. To remove the hot key, click on the field to the right of the function name and click Delete key.
Confirmation tab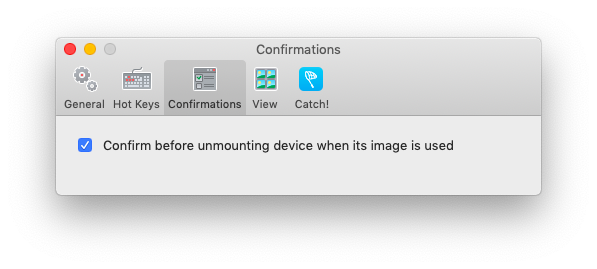 On the Confirmation tab, you can choose whether you need to confirm some of your actions while using the program.
If Confirm before unmounting device when its image is used option is checked, then you will be getting a confirmation dialog each time you are trying to unmount the image that is running now. To make this action, you will need to confirm it in the dialog. If the option is not checked, the program will automatically unmount any image.